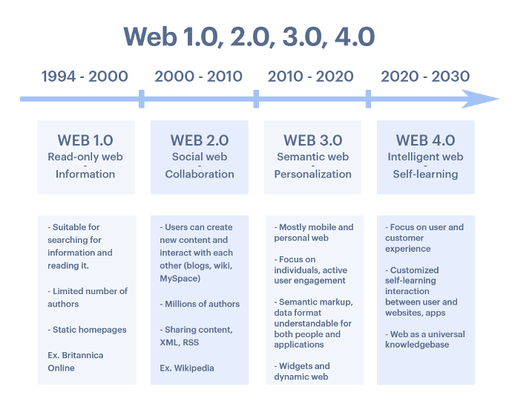 Online Presence
More than a simple Website, is your tool to elevate your business. We offer SEO services, PPC, CMR, mobile-friendly, and more.
Jump to Web 4.0

Right now, the web is shifting to a symbiotic web (W 4.0) that allows customized self-learning interaction of the user with websites, apps, and platforms. Along with Web 2.0, and the growing usage of mobile devices, came responsive web design.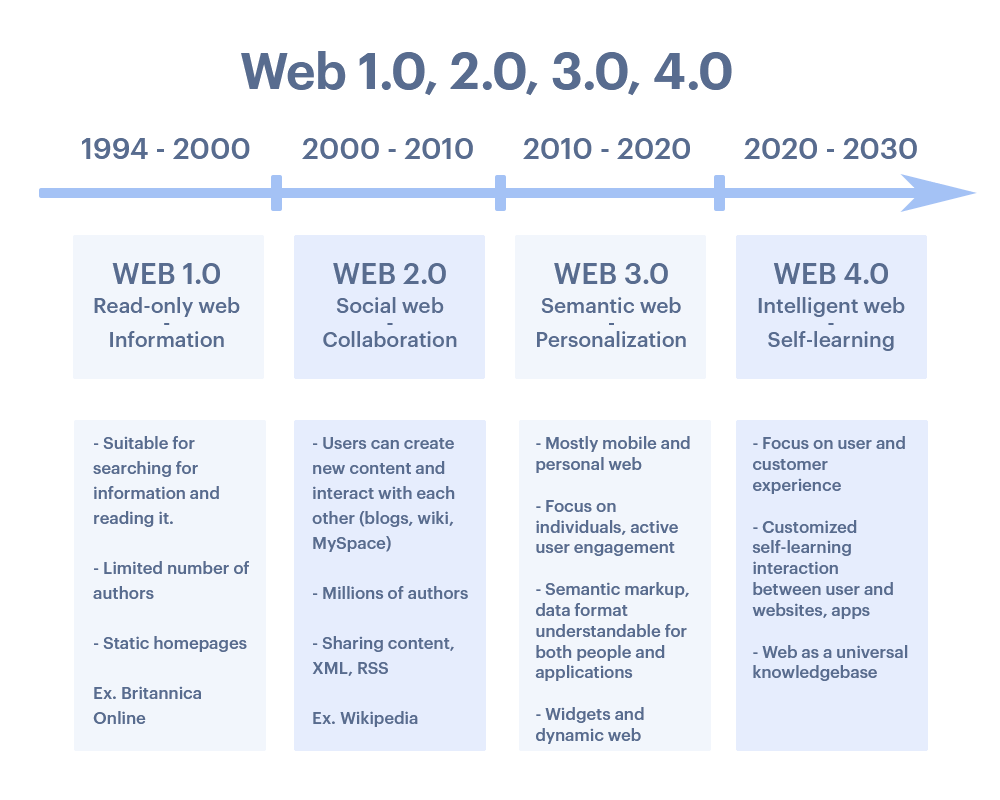 Responsive Web Design
When your website automatically adapts its appearance to all screen sizes of all devices, that's responsive web design. It allows the type setting and text flow to change from a wide screen with less line breaks to a narrow screen and a text with many line breaks. Photos in landscape format are adjusted to portrait format without losing quality or meaning.
To describe the behavior of responsive web design, imagine all the elements of your website are laid out like chess pieces on a flexible gameboard. The board can be squeezed and stretched anytime to any rectangular dimensions while the pieces move to their new positions relative to changes in the dimensions of the board.
We us, all our website templates are automatically programmed as responsive. The website editor automatically formats the text to flow correctly, without the need of implementing extra line breaks.
Mobile first design
This goes hand in hand with responsive design. Rather than design a website traditionally, with desktop and laptop versions getting designed first, mobile first design websites are adapted to desktop and laptop versions after mobile versions are made. People who used their mobile device to visit websites reached 4.3 billion globally in October 2020, those numbers continue to rise.
Google already prioritizes mobile friendly web design. Mobile first design is not only responsive design, it also incorporates easy structure and navigation as well as fast loading speed. The latter is one of the most important elements of modern web design, we will talk more about it in the following section.
Look some popular website design for some references, preview of all designs are available for you under request. 
But our mission is to to build your own and unique vision, no other website like your website.

List of Features on your Web
Services you can have directly on your website for visitor's direct access

Online Store for products, services, subscriptions, all your sales
Blogs, all your contents, histories, stories, explanations, and more
Make your visitors or clients involve and communicate with each other
Manage and publish an eLearning platform, your Courses online

Live Chat
Chat with your website visitors

Publish events, sell tickets

Track, prioritize, and solve customer tickets

Allow people to book meetings in your agenda

Foto/Video Gallery

Show your picture and videos, from your web or social media
Generate recurring invoices and manage renewals

Manage your online hiring process

Backend and more Features
Behind your web exist another world 
Sales and Product Managment
From quotations to invoices, profits, inventory, and more

Point of Sale

User-friendly PoS interface for shops and restaurants

Rental

Manage rental contracts, deliveries and returns

Social Marketing

Manage your social media and website visitors

Email Marketing

Design, send and track emails

SMS Marketing

Design, send and track sms, send reminders, updates and more

Surveys

Send your surveys or share them live.

Amazon & eBay Connector

Import Amazon orders and sync deliveries. Publish your products on eBay
Optimizing a website for SEO
We can place your website on Google's 1st page. We will improve your website's position on Google and get more traffic.


Easy Documents Signature

Send, sign and approve documents online.
Upload your PDF and drag & drop fields easily.

Multiple language versions

Enjoy your website in multiple languages.
At IT Pros, we proudly uphold a no-pressure sales policy. We firmly believe in the value our services bring to businesses of all sizes, enabling them to save both time and money while enhancing productivity. When you engage with us, we take the approach of building a tailored system that precisely matches your requirements. Once the system is ready, you have the freedom to test it firsthand and evaluate its suitability for your needs. There is absolutely no pressure or obligation to make a purchase. We respect your decision, whether you choose to implement the system or not. Our commitment is to maintain an open-door policy, offering ongoing support and assistance regardless of the path you choose. Your satisfaction and confidence in our services are our top priorities.

​
Free Update

There are no additional costs for maintenance or updates. No servers, installations, licenses, or patches to worry about.

Free Support

New Requires or Functions, fixing possible bugs, changes on your system, new fields or modifications, anything you need is free of charge, with us you'll have peace of mind.

Free Integrations
Effortless System Integrations: Transparent Coverage with No Surprises, grow covered.